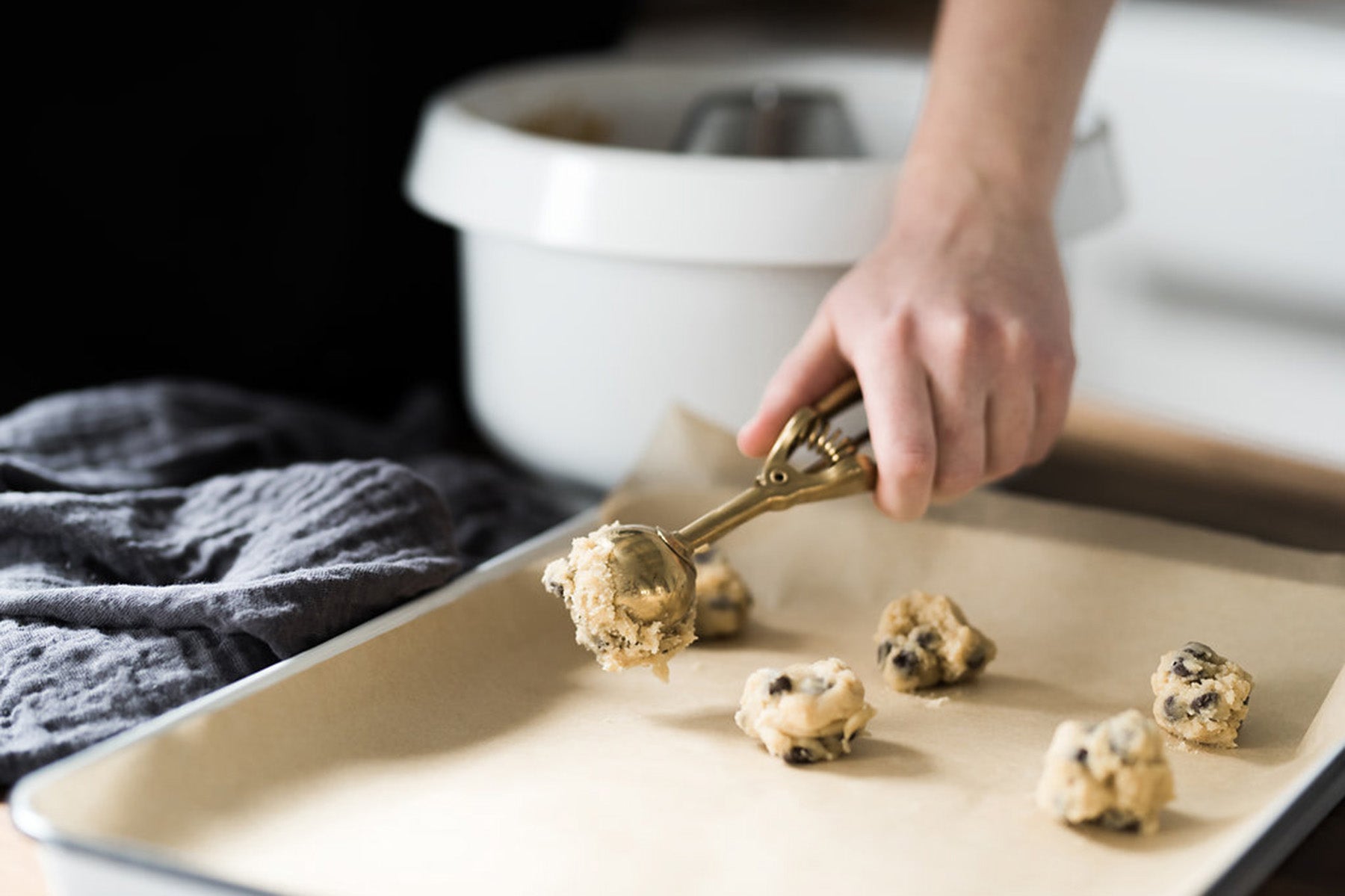 34 Dozen Chocolate Chip Cookies
Enjoy an abundance of 34 dozen cookies - a delightful array of flavors and textures to satisfy all your sweet cravings. Perfect for sharing joy with loved ones!
Ingredients
12 Sticks butter (6 cups) *Room Temp
12 Eggs
2 Tbsp Vanilla
2 Tbsp Salt
2 Tbsp Baking soda
6 Cups Sugar
6 Cups Brown Sugar
16 Cups Flour
12 Cups Chocolate Chips
Steps
Preheat your oven to 375 degrees Fahrenheit to ensure it's ready when you finish preparing the cookie dough.
Line your cookie sheets with parchment paper or silicone baking mats. This will prevent the cookies from sticking and make cleanup easier.
In a large mixing bowl, combine the 12 sticks of softened butter (6 cups), 6 cups of sugar, and 6 cups of brown sugar. Use mixer to cream the ingredients together until the mixture becomes smooth and fluffy. Use the dough hook
Add the 12 eggs to the creamed mixture, one at a time, mixing well after each addition. Then, add the 2 tablespoons of vanilla and mix until well combined.
In a separate bowl, whisk together the 16 cups of flour, 2 tablespoons of salt, and 2 tablespoons of baking soda until evenly combined.
Gradually add the dry ingredient mixture to the wet ingredients in the large mixing bowl. Mix on low speed until the flour is fully incorporated. Be careful not to overmix at this stage.
Add in the 12 cups of chocolate chips into the cookie dough slowly. Make sure the chocolate chips are evenly distributed throughout the dough.
Using your hands or a cookie scoop, form the dough into small balls, approximately 1 to 1.5 inches in diameter. Place the cookie dough balls on the prepared cookie sheets, leaving some space between each cookie to allow for spreading during baking.
Place the cookie sheets with the cookie dough in the preheated oven. Bake the cookies at 375 degrees Fahrenheit for 8-10 minutes or until they turn golden brown around the edges.
Once the cookies are done baking, remove the cookie sheets from the oven and allow the cookies to cool on the sheets for a few minutes. Then, transfer them to wire racks to cool completely. Once cooled, enjoy your delicious homemade chocolate chip cookies!
Store them in an airtight container to maintain their freshness. They can be stored at room temperature for a few days or in the freezer for longer-term storage.
Note: With this recipe, you will have a whopping 408 cookies (34 dozen) to enjoy or share with friends and family!
Newsletter
Join our mailing list to receive $10 off your next order of $100+ and be the first to learn about new products and exclusive offers.
*Not compatible with other discounts or sales.