Mill any of the following
Mill any non-oily grains or legumes
Whole Grains
Kamut
Spelt
Barley
Farro
Rye
Soft Wheat
Hard Wheat
Riticale
Emmer
Einkorn
Gluten-Free Grains
Dried Sweet Corn
Oat Groats
White Rice
Brown Rice
Teff
Sorghum
Millet
Buckwheat
Quinoa
Amaranth
Gluten-Free Legumes
Lentils
Chickpeas
Garbanzo Beans
Baby Lima Beans
Mung Beans
Black Beans
Navy Beans
Split Peas
Pinto Beans
Soybeans
Frequently Asked Questions
How to Grind Large Legumes?

First grind on coarsest setting and then mill again to achieve desired texture.
Why is my grain coming out so coarse?

Turn the knob clockwise until desired texture is reached. 
How do I remove the lower stone?

The screw holding it is reverse threaded and must be turned clockwise to loosen. However; we do not recommend removing the lower stone. Please send to a service center or contact us if a repair is needed.
Why won't my grain mill turn on?

If grain is stuck between the stones on a fine setting the motor will not be able to start. Turn the knob to the coarsest setting (counter-clockwise) before turning the grain mill on. Grain may need to be removed by removing hopper and turning mill upside down.
What is the warranty for the Harvest Grain Mill?

NutriMill warrants the Harvest grain mill to be free of manufacturing defects in materials and workmanship for 5 years. Defective products will be repaired or replaced with a comparable model at our sole discretion upon receiving the defective product.
Why won't the hopper attach?

Ensure the tabs on the top grindstone are seated into place. Loosen adjustment knob to the coarsest setting and try again.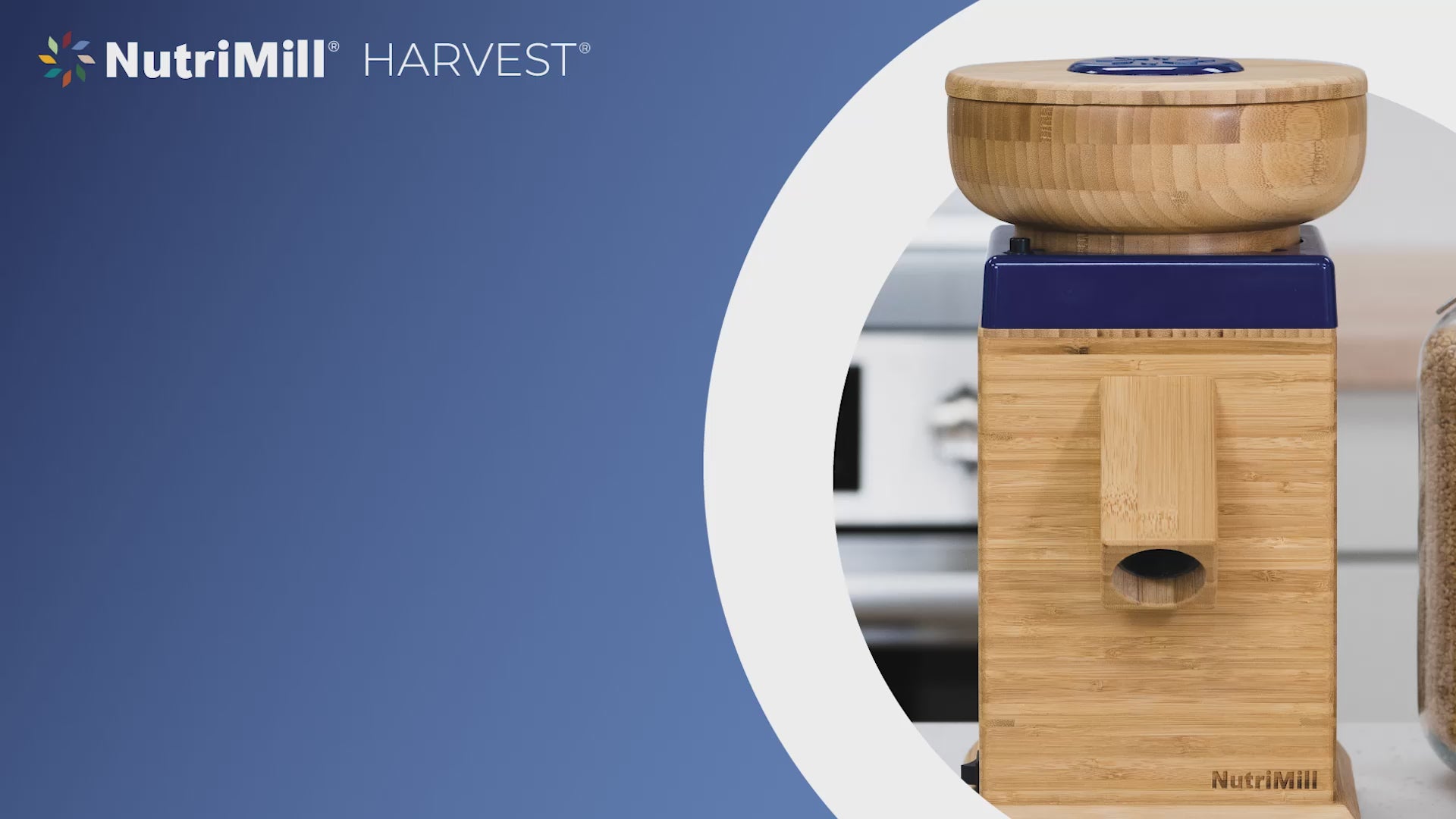 How to clean glazed stones